Welcome to Tel Aviv Ben Gurion Airport
Use this website to quickly find the most important information about Tel Aviv Ben Gurion International Airport or Tel Aviv Airport: Flights (Departures, Arrivals andDelays), Parking, Car Hire, Hotels near the airport and other information about Tel Aviv airport. Plan your travel to TLV Airport with the information provided in this site.
Tel Aviv Ben Gurion International Airport or Ben Gurion Airport (Hebrew: Namal HaTe'ufa Ben Guryon, Arabic: ma?ar Ben Ghuryon ad-dawli) (IATA: TLV, ICAO: LLBG), historically known as Lydda Airport and sometimes referred to today by its Hebrew acronym Natbag, is the largest and busiest international airport in Israel.


It was known as Lod Airport from 1948 until 1973, when the name was changed to honor Israel's first prime minister, David Ben Gurion. Because of its proximity to Tel Aviv and its location within the metropolitan area of Tel Aviv, Ben-Gurion International Airport is often refered to as Tel Aviv International Airport.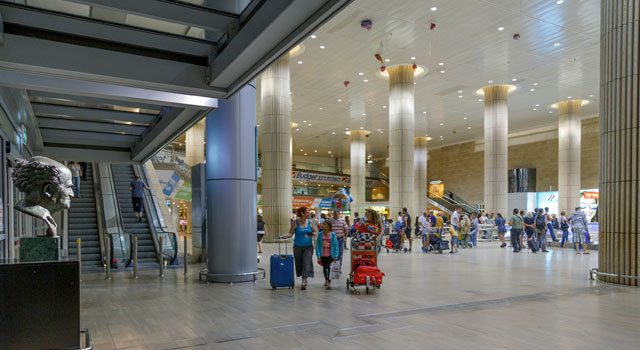 Tel Aviv's other airport is Dov Hoz Airport Sde Dov (code: SDV), located at the north of the city and serves as a major airport for domestic flights. Ben Gurion International Airport (code:TLV), is Israel's main international airport for people and freight traffic.
In 2013, Ben Gurion Airport handled 14.2 Million passengers (increase of 8,3%) and more than 100,000 flight operations. 2014 is going tobeat these numbers. The airport serves as a hub for Israelian airlines: El Al, Israir Airlines and Arkia Israel Airlines.
Location and Transport
Tel Aviv Ben Gurion International Airport is near the town of Lod, 15 kilometers (9 mi) southeast of Tel Aviv. The airport is located on Highway 1, the main Jerusalem-Tel Aviv Highway, accessible by car or public bus. Both Egged and Dan bus companies ply this route. Israel Railways operates train service to and from the airport to certain parts of the country, and taxi stands are located outside the arrivals building. Another transportation option is the shared taxi van, known in Hebrew as a sherut, going to Beer Sheva, Haifa and Jerusalem.
Ben Gurion Airport is considered one of the world's most secure airports, with a security force that includes both police officers and IDF soldiers. Airport security guards operate both in uniform and undercover to maintain a high level of vigilance and detect any possible threats.
Some interesting data
- 2 active Terminals: Terminal 1 and Terminal 3.
- 3 runways disposed as a triangle.
- 68 Airlines are currently operating at Tel Aviv Airport, but some of them only have Seasonal Flights.
- It's one of the best ariports in Middle East due the passenger experience and the high level of security.
Terminals
Terminal 1 is used for domestic flights and some international flights.
Terminal 3 is the main terminal of Ben Gurion Airport. It has 30 gates divided in three concourses (B, C and D). It is capable to serve over 10 Million passengers.
Contact information
Address:7015001, Israel
Telephone: +972 3-975-5555